In the Victorian era, calling cards were used by every lady and gentleman of means. While the custom began in Europe, it spread to England and America quickly, and the intricate courtesies of how and when to leave cards was a facet of Victorian social life and etiquette. Everything about a card carried a meaning, from it's design and motifs to a turned-down corner or black border.

Cards could be colorful or plain, with lovely calligraphy or printing. Some cards had the name hidden in the design or behind a colorful decorative front card.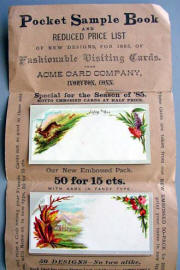 Some cards are black and white lithographs with the color added by hand, but others are done in Chromolithography, which uses a different plate for each color, resulting in a richly colored and detailed card.

Calling cards were carried in elegant card cases, often made of sterling, mother-of-pearl or paper mache. Making social calls was a ritual of Victorian life, and calling card trays graced the entry of most homes. There was even a method of leaving a message with no words by folding a corner of the card: the folded top right of the card indicated congratulations, the bottom right a call of condolence, and the bottom left a farewell.